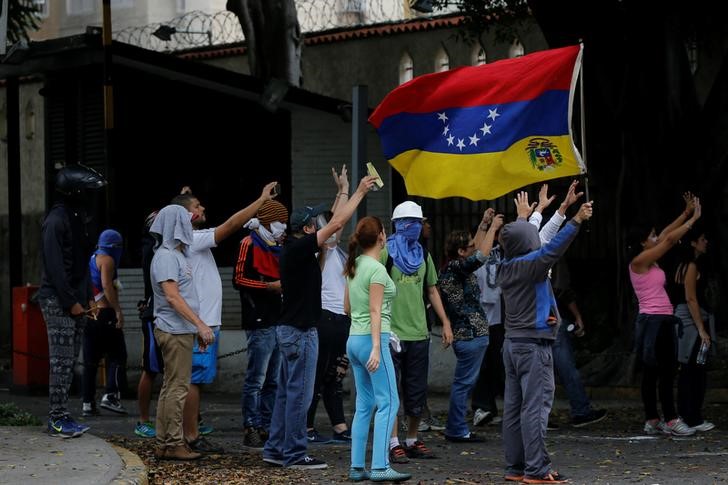 © Reuters. Venezuela calls creditors to debt restructuring talks
By Andrew Cawthorne and Brian Ellsworth
CARACAS (Reuters) – President Nicolas Maduro's cash-strapped socialist government invited Venezuelan bondholders to a Nov. 13 meeting in Caracas as a shock decision to restructure the OPEC nation's foreign debt sent prices plunging on Friday.
Vice President Tareck El Aissami, who is on a U.S. blacklist for alleged drug trafficking, said the country remained committed to paying all its debt, but wanted to reformulate terms with creditors.
"A sovereign process of debt renegotiation is beginning," said El Aissami, who is heading Venezuela's debt committee despite having no known prior experience on the matter.
El Aissami gave an email address for bondholders to write to and added that Economy Minister Simon Zerpa – also under U.S. sanctions on graft charges – would be on his committee too.
Venezuelan bond prices took a beating in trading on Friday after Maduro's surprise announcements the previous evening.
The $753 million 2018 bond plunged 31 points, while the $3 billion 2026 bond and $4.2 billion 2031 papers both slumped about 10 points, with yields surging to record levels.
State oil company PDVSA's 2021 bond was down 20 points while the 2022 paper dropped nearly 18 points, Reuters data showed.
Maduro, the 54-year-old successor to Hugo Chavez, said late on Thursday that PDVSA [PDVSA.UL] would make this week's $1.1 billion payment on a maturing bond which had been the immediate point of anxiety for investors.
But he then announced a new commission to study the refinancing and restructuring of all future payments on foreign debt, which include about $50 billion in bonds.
Refinancing usually involves a voluntary operation in which investors agree to exchange one set of securities for another, whereas a restructuring implies a forced negotiation.
Venezuela has few avenues to take either because of President Donald Trump's sanctions and skepticism that Maduro is serious about overhauling a moribund economy.
ARGENTINA PRECEDENT
Aimed at squeezing the ruling Socialist Party whom Washington accuses of installing a dictatorship, Trump's measures bar U.S. banks from participating in or even negotiating new debt deals.
Venezuela's move could create a sovereign debt crisis of a scale not seen in Latin America since the massive 2001 default in Argentina that shut it out of markets for years.
Maduro said a U.S.-led global "persecution" of his government was to blame for Venezuela's debt predicament.
But opposition leaders, who have long blamed Maduro and his predecessor Chavez for destroying the economy, was scathing about his plans, saying the government had no credibility.
"Maduro won't be able to restructure the debt because nobody in the world trusts his government," said Julio Borges, head of the opposition-led congress, who has been campaigning hard to increase global pressure on Maduro.
The president said Borges should be tried for treason.
The government and PDVSA owe some $1.6 billion in debt service and delayed interest payments by the end of the year, plus another $9 billion in bond servicing throughout 2018.
The next hard payment deadline for PDVSA is an $81 million bond payment that was due on Oct. 12 but on which the company delayed payment under a 30-day grace period. Failing to pay that on time would trigger a default, investors say.
That would expose Venezuela and PDVSA to lawsuits by creditors seeking to seize assets such as refineries in the United States.
Default would also likely make companies less willing to do business with Venezuela, potentially aggravating shortages of food and medicine and creating further problems for its vital oil industry already hobbled by under-investment.
There was no immediate impact, however, on oil exports and production from Maduro's announcement.
"NO ONE FLUENT IN MADURO-SPEAK"
The president surprised many by maintaining debt service after the 2014 crash in oil prices, diverting hard currency away from imports of food and medicine toward Wall St. investors.
That has added to a crushing four-year recession, with millions skipping meals, and basics from milk to car parts scarce or impossible to buy due to soaring prices.
Traders were left scratching their heads over Maduro's statements, which neither clearly declared default nor laid out a path to easing payment burden.
"No one is fluent in Maduro-speak with everyone scrambling for what this all means," said Siobhan Morden, Latin America analyst for Nomura bank.
Venezuela's debt is the highest yielding of emerging market bonds measured by JPMorgan (NYSE:JPM)'s EMBI Global Diversified Index , paying investors an average of 31 percentage points more than comparable U.S. Treasury notes.
That is nearly double the spread on bonds issued by Mozambique, which is already in default, and more than six times the spread on bonds from war-torn Ukraine.
Jim Barrineau, co-head of emerging market debt at Schroders (LON:SDR), said he understood a committee of Venezuelan bondholders might be forming.
"But a restructuring has a very close to zero possibility given U.S. sanctions, time constraints given the payment schedule, and the fact that Venezuela obviously does not have the technical capacity to negotiate even if those other issues were not there," he added.
Maduro narrowly won election in 2013 after Chavez died and Venezuela faces another presidential vote next year.
Though there is widespread public disquiet at economic hardship, the opposition coalition is cracking after a disastrous showing at last month's gubernatorial elections, and there is speculation Maduro may bring forward the presidential vote, which had been expected for the end of 2018.
sponsoredArticle = 'div-gpt-ad-1466339494851-0';